With more than 100 years of experience on the global and more than 10 years in Vietnam, Eimskip is proud to be the specialist in solutions of supply chain management, including transportation, warehousing and inventory management. Our aim is to help customers and expanding the services of warehouse for rent in Ho Chi Minh city, as well as provinces nearly like Binh Duong provinces.
Over 10 years operating in Vietnam, we have proved that Eimskip is a comprehensive logistics company by keeping customers and their customers happy. Following this success, Eimskip officially established warehouse for lease and its services in Ho Chi Minh City, Binh Duong and have cooperated with prestigious warehouses in big cities such as: Ha Noi, Bac Ninh, Da Nang, Dong Nai,…
Eimskip aims to provide customers with different kinds of storage solutions such as square meter per month, ton/pallet per day.
Benefits at Eimskip warehouse:
– Competitive price on services of warehouse for rent in Ho Chi Minh city and nearby provinces
– Containers are accessible 24/24;
– 24/24 security;
– New facility: lighting system, fire protection system;
– Pest control being implemented weekly, keep the safety of goods;
– Suitable for storage of different types of commodity: food, agriculture products, FMCG products, chemical products, etc.
– Inventory being managed by up-to-date warehouse management system (WMS)
Value added services :
– Distribution
– 24/24 online report of the inventory via WMS system
– Loading/ unloading goods in loose cargo and full pallet with electric forklifts
– Packaging, labelling, barcoding
– Customs clearance
– Trucking
Eimskip storage's solutions are offered to help customers reduce their times on inventory management, which should be used for sales and marketing. Our warehouses are at the central locations, which are near the ports, industrial parks, and high consumption cities in order to reduce transpotation time and expenses.
Location 1: Warehouse for rent Di An, Binh Duong
Location: Chieu Lieu Quarter, Tan Dong Hiep Ward, Di An Town, Binh Duong Province (3 kilometers far from Song Than 1 Industrial Park). This location is easily accessible to and from some industrial parks in Binh Duong, Ho Chi Minh, Dong Nai, etc.
Type of warehouse: Dry, floor warehouse
Kind of goods can be stored in our warehouse: fashion, footwear; pre-packaged food, FMCG; furniture, industrial products;…
Total warehouse area: 2,300 sqm.
Warehouse's pictures in Di An, Binh Duong
Location 2: Warehouse for rent in Ho Chi Minh city
Location: In Hi-tech Park, District 9, Ho Chi Minh City.
Type of warehouse:
Bonded warehouse and general warehouse for rent (30,000 sqm): combined floor and racking system with a capacity of 50,000 pallets.
Cold storage for rent (9,000 sqm) with a capacity of 13,000 pallets at three levels of temperature:

From -25OC to -18OC: for frozen food and ingredients
From 5OC to 10OC: for cheese, milk, different kinds of wine: grape wine, soju, sake,…
From 18OC to 23OC: for pre-packaged food, FMCG,…
Warehouse's pictures in District 9, Ho Chi Minh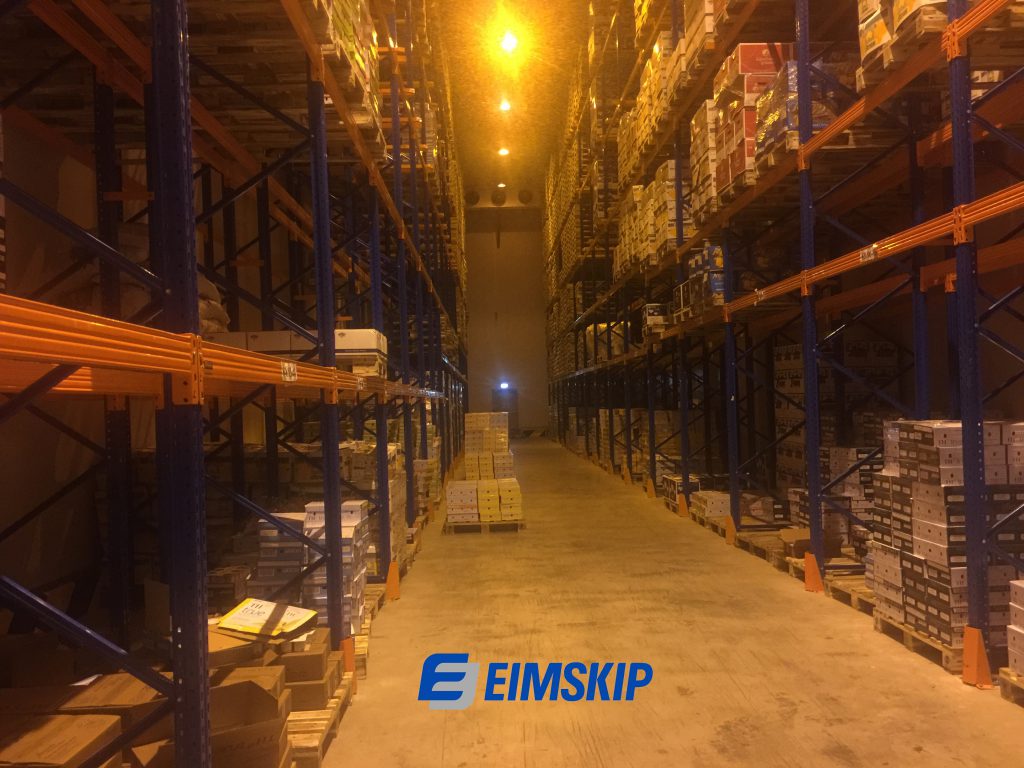 Racking and buffer area at cold storage
Floor and racking system in general warehouse
Should you have any inquiries, feel free to contact us at Eimskip Vietnam:
We are also offer warehouse for rent in Binh Duong province also, and ere looking forward to being a warehouse partner with your esteemed company, also refer to our Eimskip warehousing services worldwide.